A vision of Real Estate
Attention to detail, professionalism and ambition
Our DNA breaks the standard values of real estate development. We do not simply sell housing, we offer a unique lifestyle and fulfilment, with a distinguished architectural signature. Paying attention to expectations of the market, we search for rare locations in order to offer exceptional addresses.
Our motto: selecting a prime location, architectural finesse, deluxe fittings and finishes. Requirements that we satisfy through our experience and recognised expertise.

Prime locations

Architectural finesse

Prestigious facilities

Sustainable development
Nice
Cagnes sur Mer
Nice - Saint Roch
Nice hillside
Nice
Cannes
Auron 1600
Nice - Saint Antoine de Ginestière
Nice - Corniche Fleurie
Buy newly built properties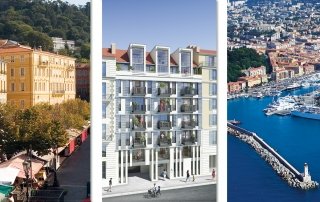 Nice Port
Nice Libération
Nice - Colline de Saint Pierre de Feric
Aspremont
Nice - Colline de Gairaut
La Gaude
Nice - Corniche fleurie
Nice
Nice - Parc Impérial
Nice Matin
2017-02-09
Des logements à la place du restaurant "Chez Simon"
An innovative project in Saint-Antoine neighbourhood.
And not only on an architectural point of view ! For the first time, the real estate developer, Immobleu Promotion, finances everything : the purchases of the land and the building of 5 small properties, 2 of them dedicated to social housing.
A residence entirely dedicated to social housing in La Gaude.
Immobleu Promotion won the competition for this project in Les Nertières area : 42 apartments from T2 to T4, splited in small modern buildings.
Let us discuss your plans